Technical Indicators:
Indicator Name Indicator
High-grade and first-grade qualified products
Appearance transparent oily liquid
Color (APHA) = 202560
Ester content%> 99.599.099.0
Acidity (measured by phthalic acid)%<0.0100.0150.030
Heating reduction (125oC3 hours)%<0.30.50.7
Flash Point (Opening Cup Method) oC (>160160160160)
Specific gravity D30MD1.044-1.0481.044-1.0481.044-1.048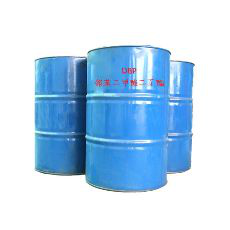 Packing: Galvanized iron barrel, 200 kg net weight per barrel.
Usage and Characteristics: This product is a kind of plastic agent with strong solubility to many kinds of resins. Used in the processing of polyvinyl chloride, it can give the product good softness, and used in nitric acid fibre coatings. It has excellent solubility, dispersibility, adhesion and waterproofing. The film has good flexibility, flexibility and stability. It is used as plasticizer in many kinds of rubber, fibre butyl acetate, ethyl cellulose polyacetate, vinyl ester and other synthetic trees. It can also be used in the manufacture of paints, station agents, artificial leather, printing ink, safety glass, celluloid, dyes, pesticides, perfume solvents, fabric lubricants and rubber softeners.